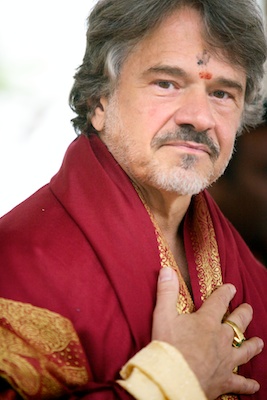 During the Kumbhabhishekam celebration I was surprised and greatly humbled to be given the title of Brahmarshi (alternate spelling "Brahmarishi)".
~
I had no idea this was going to happen until I was informed only a couple of days prior.  I have respect beyond words for the priests and pandits of India who have given this to me.  I will do my utmost to uphold the Vedic Holy Tradition.
~
A Rishi is a seer…. one who sees the truth of life, the foundation of existence and the mechanics of its manifestation in life.
~
A Maharishi is a great seer… one with the gift of being able to reveal that knowledge to others.  This of course transcends simple intellectual understanding. It is to cultivate a physiology that embodies the Knowledge.
~
A Brahmarishi is a Maharishi who furthermore has a Brahman nervous system, i.e. a physiology the nature of which is to be with the Knowledge of Veda.  I am humbled.
~
The full title I was given is Brahmarshi Maheshananda.  I will only use that on formal occasions.  Mahesh is a name of Lord Shiva.  Ananda means bliss.  The Maheshananda means bliss of Lord Shiva, or one who is loved by Shiva.  I am speechless and, again, deeply humbled.
~
I am a simple man.  I never had any aspiration for titles or recognition.  My sole purpose has been to help people… to give Knowledge to others, to purify in the tradition of Adi Shankara current understanding of eternal wisdom.  It is out of deep respect for the tradition that I humbly embrace the title.
~
All here at Mount Soma are slowly getting accustomed to addressing me as Brahmarshi.  I can assure you that it is more of an adjustment for me than anyone else.
© Michael Mamas. All rights reserved.