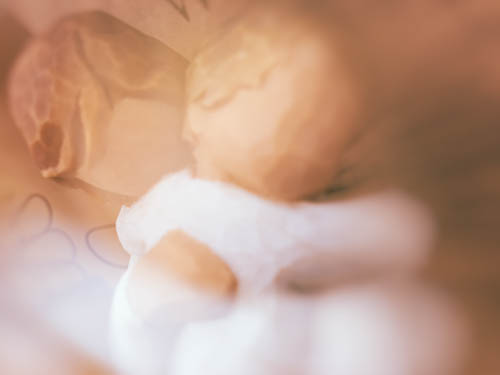 The Beej or seed mantra for Durga is "Doom." It is sometimes spelled "Dum" in an attempt to delineate the subtlety of the pronunciation. However to the Western ear, many people would not pick up the distinction. At first glance it might seem strange that the word for the all-loving, all-protective Divine Mother is Doom. In the English language, that word is quite ominous, as if we are all doomed to some sort of disaster. After all, in the Sanskrit language the sound of the word contains the meaning, and to varying degrees, that principle applies to all languages. Why then would such an ominous word apply to the benefic Mother?
There is no greater love in the universe than a mother's love for her children. Durga loves us all deeply. Out of that love, she spontaneously annihilates impurity.  Impurity means life not in harmony with nature, with Natural Law, with one's Dharma. When individuals are identified with such impurity, Mother Durga, purging away that impurity, can feel most threatening. So the idea of being Doom-ed is actually being blessed. All the impurities and imbalances in the psyche and physiology are doomed away. So the word "Doom" is a loving beautiful, all-pervading and profoundly benefic sound.
If you can let go of your preconceived conditioned notions around the word "Doom," and then allow the feeling of that word to permeate your body and soul, you will realize that it is in fact a beautiful sound. It is deeply nourishing and profoundly purifying. It is Mother Divine.
© Michael Mamas. All rights reserved.