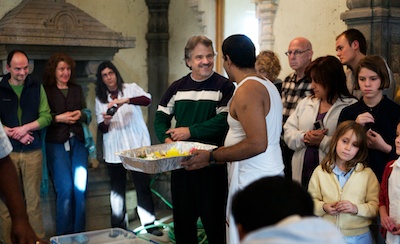 I am having so much fun at Mount Soma!
~
The Temple is incredible.  I have seen larger temples, but I have never seen a more beautiful one.  Also, the feeling of it, even from the distance is astounding.  Very powerful and it is not even being used yet!
~
Pundit Prasad and his wife Lakshmi Anasuya have arrived from India.  He is a very highly respected priest.  I am giving them a couple days to rest before I visit with them for the first time.
~
We are planning to keep the stapathi and shilpis on for an additional month or so after the inauguration to build a Maha Nandi (great/huge Nandi) statue directly across from the temple.   It will be located in the area of the first Havan Kund (fire pit) that we used for homas while many of you were here in 2008.  The priests loved the idea of the Nandi.  He will be an awesome sight and will certainly amp things up.
~
It is so much fun to see everyone every day at the Center.  More and more people are joining the ashram program.  It is a great delight for me.  I love it.  People are really moving forward.  Evolution is not always the easiest thing for people, but the underlying current of growth supporting and feeding their lives is palpable and so nurturing to their being.  Wonderful!
~
The Student Union building is nearing completion.  At the rate things are going, we will need another building for housing as soon as it is completed!
~
We are getting a cow and calf today and are all excited about it.  People here are having fun constructing the barn for them.  What a joy it will be to see them each day.
~
Life is more than good here.  It is fantastic.  I look forward to every day.
~
There is nothing more fulfilling than rapid evolution.
© Michael Mamas. All rights reserved.