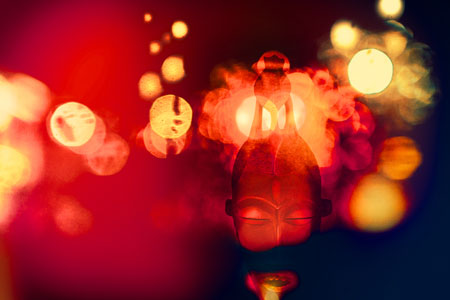 Our universe is composed of perspectives. It's our connection with the universal, underlying Transcendent that gives us the awareness to align with the perspective that is most evolutionary and best serves the moment.
The 8th house in the Jyotish astrology chart deals with occult knowledge which would include the domain of witchcraft, left-handed Tantra, etc. Such practices are not rooted in the infinite wisdom of wakefulness to the Absolute. As a result, the diverse orientations to other-worldish perspectives have no basis to guide the practitioner to function in harmony with Natural Law. Whatever perspective the individual practitioner aligns with is basically a roll of the dice. For that reason, those oriented towards 8th house view knowledge of spirituality as a roll of the dice. Life, then, becomes a roll of the dice. From that mindset, one's access to spirituality is gambling.
This is illustrated in the Mahabharata when the conflict between the Pandavas and the Kauravas began with gambling. Judgment of one another was then determined by a roll of the dice, which in turn, led to the dynamic of life, represented in the Mahabharata. It's fascinating to reflect upon the idea that for those not grounded in Transcendental awareness, spirituality is aspired to and related to through gambling.
© Michael Mamas. All rights reserved.