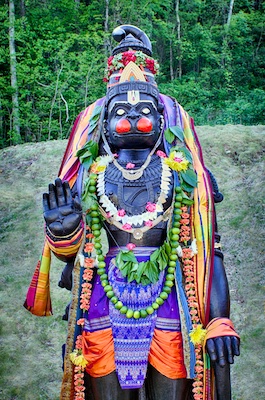 Wednesday, May 13, was Hanuman's birthday. It is one of my favorite days of the year. Everyone congregated in the shade of canopies beneath the warm sun at Hanuman Park to witness the ceremony. It is the only day of the year that we do abishekam for Hanuman. The feeling is so very sweet. It reminds me of my Sundays as a child when all the relatives would get together for a big pot luck, sit, talk, and enjoy the deep feeling of family.
At Hanuman Park, the ladies chanted as Panditji and Lakshmi poured milk and water over Hanuman, with all of us taking our turns to do the same.  The fruits and flowers were offered as the exquisite feeling grew and grew.
I left feeling so full, so happy, so blessed.
Jai Hanuman!
Pictures are posted HERE.
© Michael Mamas. All rights reserved.