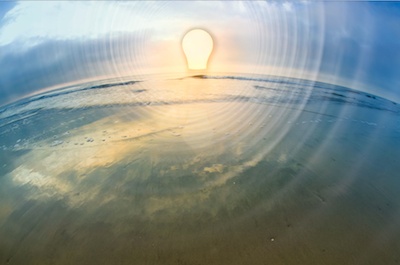 It was over 30 years ago that I first learned about the concept of a global "harmony generator."
Before Thomas Edison, no one imagined that a little bulb could light up an entire room.  A harmony generator is similar (though functioning on a much deeper level than a light bulb) in that  it radiates peace and harmony to the world.
Also similar to the light bulb, people have a hard time believing it is possible until after it is built.  To me, the logic is there.  It is self-evident.  We can build it.  The technology is there in the Shastras already.  It is the plans for an enlightened city. Just as there are design plans for a cell phone, there are design plans for an enlightened city that will radiate a profoundly powerful influence to the entire world. It is not enough to build a few temples, some housing, and an assembly hall. Everything must be designed and located precisely. Similarly, a cell phone, is more than a handful of arbitrarily placed electrical components. The science is exact and detailed.
Sounds like a miracle.  Well, yes, but so did a camera, antibiotics, a computer, an automobile, an airplane, etc. until someone stepped forward and built one.  The good news is that construction is well over half done.  If we could raise $15 million, we could have it completed in less than two years.
I know.  I know.  It is too incredible to believe.  Well, again, so was the light bulb until someone made it.
© Michael Mamas. All rights reserved.