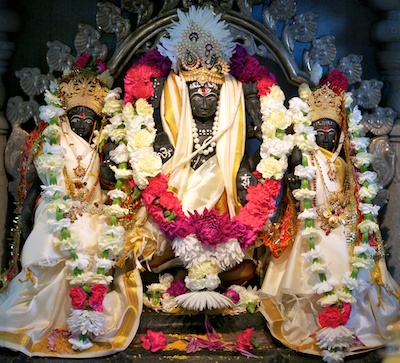 Yesterday, after the Karthikeya marriage ceremony, Pandit asked me to say a few words. I gave a sense of the difference between Karthikeya and Ganesh with a simple analogy.  People liked it and asked me to write it in a blog, so here it is.
Existence is crystalline in structure – as if it is all done with mirrors, consciousness becomes aware of itself over and over again, creating the structure.  Ganesh is the principle in nature of categorization, i.e. the structuring of nature – of the crystal of existence.  That is why Lord Ganesh is the Lord of Categories.  You can view the whole topic from the perspective of physics.  Ganesh is the remover of obstacles because enlivening the structure (categorizations) of the crystal causes it (life) to resonate, to hum, to function in harmony, which means to receive the support of the whole of nature and thereby obstacles are removed, cast off, purified out.
Now imagine the full spectrum of all the colors of light shining through the crystal of existence.  These are the fundamental operators of life and existence, the Gods. Karthikeya is the principle of orchestration of all the colors of light reflecting through the crystal.  He is the Commander in Chief of all the Gods.  The infinite orchestration of the mathematical precision of the intelligence of nature is his domain.  That quality of nature is called Karthikeya.  Through him, opposition to harmony in life is overcome.
So Ganesh is ruler of the structure of existence.  Karthikeya is ruler of the principles of light that shines through as the essence of all that is.  To be more specific, light can be viewed as a particular frequency of sound, and actually the crystal of existence is the structure of sound of which light is one aspect.  So really we are talking, not just about light, but about sound in the broadest sense of the word.  The mantras and Brahmanas are the sounds underlying all that is.
Though life and existence can be viewed through the eyes of pure physics, and doing so can help one understand things, the personified value is what gives it all meaning and turns out to be the foundation of the technology that best addresses the most fundamental principles of life and existence.  The future supercomputers will be cosmic computers.  They will interact with nature on the most fundamental level… the personified level.  This is within the domain of Vedic technology and the computer is human awareness.  Sri Somesvara Temple is a vehicle to facilitate that process, the communion of you with the most sublime aspect of your being.
By the way, do you know why Karthikeya is the guru of his father, Lord Siva? Because he takes the totality of the light that is Shiva and orchestrates its separation into the full spectrum of color and harmony, complete with all its complexity and grandeur, and reflects it back to Shiva.  The guru shows you your own grandeur.
© Michael Mamas. All rights reserved.