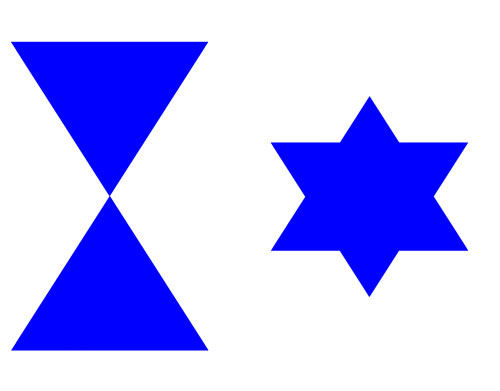 I was planning to write something very simple about how Lord Shiva's drum is shaped like two triangles (an upward pointing one as Shiva, the linga, and a downward pointing one as Parvati, the yoni). The drum in that form represents the unmanifest. When Lord Shiva plays his drum the two triangles (Shiva and Shakti) come together and overlap forming the six pointed star representing manifest existence, the universe.
However, the more I think about it the more beautiful it becomes. The geometry goes on and on, forming the Shri Yantra by superimposition; forming all yantras and forms, like circles by spinning, etc. The mathematics of the six-pointed star alone is a vast, abstract algebraic equation – abstract algebra being the mathematics underlying all existence.
I remember as a child around age 7, my family watched a Walt Disney episode that displayed the wonders of the five-pointed star. I was mesmerized. The ancient Greek Pythagoreans drew that star on their palms. Simple geometric forms are fundamental to existence, the mathematics of which is the mathematics of the unified field, the underlying basis of existence. Yantras are mathematic computer chips that enliven the foundation of existence within the cosmic computer of human awareness.
The structure in yantras resonates with the structure in gemstones. Everything is born through the play of the two triangles of Lord Shiva's drum.
© Michael Mamas. All rights reserved.