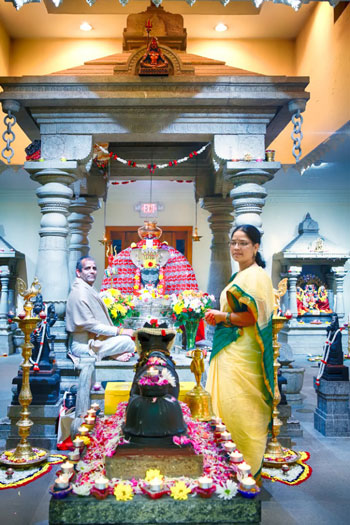 These days, many people both western and eastern, are put off when entering a Vedic temple. Seeing beings with many arms, the head of an elephant, or in the form of a bull just does not make sense to the current modern perspective. Admittedly, as a teenager, I too would have been put off if I was to walk into such a temple. It would have just seemed too strange.
We live in a rational age. Things have to make sense or they are rejected. However, as science advances, things that once made no sense do begin to make sense. For example, a couple hundred years ago, the idea of unity and oneness made no scientific sense. However, with the advent of modern physics, the concept of unity is front and center for many theoretical physicists.
To understand the essential science of the Gods, we can begin to make sense of Vedic knowledge. Yet for the foundation of that understand to be solid, we must start with the basics and build upon them. Few people are willing to do that. Those that have rejected spirituality are rarely willing to take the time. Those who have embraced spirituality feel they have no need. Both perspectives are flawed. The more deeply and fundamentally we understand life and our existence, the better. Just because one believes in God, does not mean it is time to stop learning and discerning. Also, because we have become identified with a particular paradigm does not mean that there are no other valid paradigms. To ignore other paradigms is called ignore-ance. In this day and age of western science, that paradigm should not be ignored. By taking the time to investigate the Vedic paradigm, we can come to see the tremendous value of Vedic knowledge.
So let's set any aversions or affinities aside for a moment and consider the following. Fundamentally, the Gods are laws of nature. There is a mechanism or mode of operation underlying the universe… they are laws of physics or laws of nature. Each God or Goddess is a particular aspect of the laws of nature, just as addition, subtraction, multiplication, and division are aspects of arithmetic.
Ganesh
Ganesh is the principle of categories or structure. To compare creation to a crystal, Ganesh would be the molecular structure of the crystal. Ganesh then is the remover of obstacles. By enlivening the underlying structure of life (Ganesh), we strengthen and stabilize our lives thereby removing obstacles to our progress. Ganesh is also the protector of women and children. Sociologically the family structure has traditionally be held together by the bond of mother and child. That family dynamic gives structure to life. So naturally, that is upheld by the principle we call Ganesh.
Watch video: "The Gods" with Michael Mamas – Ganesh
Shiva
There is one basis to all existence… consciousness. Even many modern physicists believe the unified field is quite simply pure consciousness. It is the one thing that births everything. Shiva is that principle, that quality, of oneness… pure consciousness, pure is-ness.
Watch video: "The Gods" with Michael Mamas – Shiva
Karthikeya
Kartikeya is the harmonizing principle of the dynamics underlying existence. if Ganesh is likened to the structure of a crystal, Karthikeya is the order of the dynamic display of light as it is shined through that crystal and the crystal is rotated. That is why Karthikeya is referred to as the commander and chief of all the Gods.
Watch video: "The Gods" with Michael Mamas – Karthikeya
Mother Divine
Consciousness (Shiva) becomes conscious of itself and perceiving it as 'other' duality is born. Aware of the duality, three things emerge. Then four, five, and on to infinity… this is the self-interacting dynamic of the structure of Veda. The exquisite display of the beauty of what is created pulls awareness into identity with that world of relativity. That force is call maya. That principle is call Mother Divine or Shakti. Shakti is the force that compels the universe to manifest.
Watch video: "The Gods" with Michael Mamas – Mother Divine
Summary
All the Gods can be understood in this way. That is the rational starting point. Then, as one builds upon that foundation, more and more is understood. For example, the shape of Ganesh's head can be understood to be like that of an elephant because of the mathematical nature of that principle. That principle permeates and will up through creation in many ways. For example, the shape of a leaf or the the cross section of the human brain.
The more we study Vedic Knowledge in this way, the more sense it makes. By deeply understanding the scientific principles underlying things like cognition, yagya, puja, vastu, Gandharva Ved, jyotish, etc. all the various aspects of life are more fully understood and appreciated. Also, any distortions or superstitions that may have crept in can be purged. Superficial understandings give superficial results. Deeper understanding of Vedic Knowledge reveals a technology to bring life in harmony for all humanity. My life is dedicated to bringing out that knowledge in its purity for all of humanity to enjoy, regardless of one's religion, race, philosophy, or nationality.
© Michael Mamas. All rights reserved.