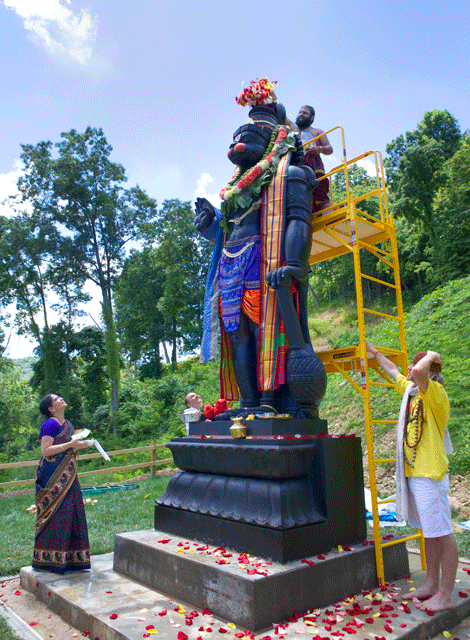 You know it was a good day when at the end of the day your cheeks are sore from smiling so much.  Yesterday, July 16 being 45 days since the Hanuman statue installation, was the Mandalabhishekam.
There was something special about the day from the very beginning.  The feeling in the air reminded me of those days, decades ago, when my teacher, Maharshi, was somewhere, anywhere, in the area.  Everything was permeated with His being, with the Divine.  There was a sweet, yet profound sense of crystal clarity within everything.  One could say that every day at Mount Soma feels that way, but yesterday that feeling was particularly tangible.
Proceedings started with a Ganesh Puja in the temple.  Then a Hanuman Havan and Kalash Puja, followed by the Nagadevata Abhishekam and Puja, and concluding with the Hanuman Abhishekam and Puja. Concurrent with all of this is the summer meditation retreat. 
To describe the feeling as joyous would be, for me, an understatement.  The celebrations here are ever-increasingly powerful and profound as our community continues to grow and prosper.
We are all very blessed.
© Michael Mamas. All rights reserved.