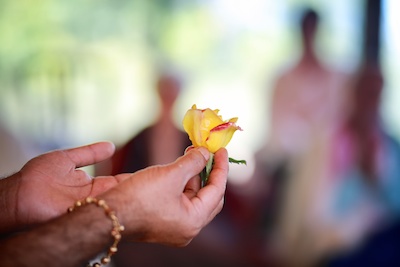 The retreat ended yesterday.  How can I convey it to you?  Maybe we should have filmed a docudrama.  Though that would, at best, give a mere glimpse.
It was fantastic… so powerful… so amazing.  We should release the lecture series as a video set, though I do not know if that is feasible.  The pujas were incredible.  The five-hour havan moved heaven and earth… it defies description.  During it, I had the thought, "This will unleash immediate and explosive purification."  And it did… tangible waves of purity radiating throughout the mountains.
Not only the ceremonies, not only the meditations, not only the lectures, not only the overwhelming enthusiasm of those visitors who did not even attend the course, but only came for an hour or a day… everything… the personal interactions, the children at play, the power of the temple altars, what it felt like to lie down to sleep at night, the crispness of the mornings, the stars in the still, quiet, motionless darkness of the night skies, the fall leaves, the palpable shakti permeating the air.
All I can say is that what we are doing is working.  Forward! Forward! Always forward!
© Michael Mamas. All rights reserved.