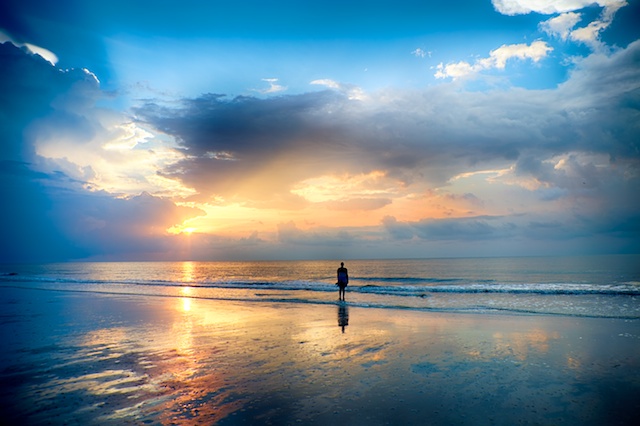 Q:  I humbly seek to understand the difference between the state of longing to be one with Shiva versus already being one with Shiva.
The reason for this question is: If I am intensely longing to be one with Shiva and feel MY being not as My being, but Shiva's, then am I already one with Shiva?
If so, then that ONENESS should resonate as already existing. This state or feeling of ONENESS is abstract and internal, whereas the body is physical and external and it is this body where my being, my soul, resides. Therefore again, the soul is longing to be one with Shiva, to be dissolved in Shiva.
Hence, I am lost. Will I ever be enlightened enough to stop longing for ONENESS? Or will the longing still continue even after ONENESS with Shiva?
A:  Everything, everyone, is already one with Shiva.  A rock, however, has no conscious awareness of this.  A human being may know it intellectually and even feel it emotionally with great intensity.  Yet an enlightened individual knows it as a direct experience that transcends thoughts and emotions… transcends even the deepest feeling one can experience.  To describe that experience is something that has been attempted by most every enlightened individual throughout history… but without success.  It is likened to attempting through description to give someone who has never tasted a strawberry the experience of how a strawberry tastes.  It cannot be done.  However, the attempt to do so will point in a direction and thereby give some sense of the experience.  Hopefully this will clarify things somewhat.
Though it comes gradually, there is a moment of abrupt transition when enlightenment comes.  In that moment, even though everything goes on just as before, everything is forever changed.  It is as if suddenly, everything is seen to be a projection on a screen, a virtual image, like the picture on a television.  The screen is pure Being, YOUR being…. YOU.  At the same time, it is God… Shiva.  In that moment, He has no name… no words… no opinion… no comments… no thoughts or feelings… He just is….   Though the personality you that was there before remains exactly as before, the real You is the only thing that really is… the rest is a projection, not really real.  It is maya.  To intellectually know all about maya… to have memorized the Vedic texts about maya… that is one thing.  To experience it directly is completely different.
The early experience of pure Being is the crux of the matter.  It is the backdrop of all that is.  If until that moment, you never even believed in God, the only word you could find to name it would be 'God'.  At the same time, you would know that the way all of humanity uses the word 'God' is not exactly accurate.  You are That.  At first this experience can be most disconcerting and confusing.  How is it possible that you can be That, while at the same time, That is as if someone else (namely God… Shiva)?  But that is undeniably your experience.  Liken it to looking at the same diamond from different angles.  You see something a bit different from each angle, but it is the same one diamond.  However, the paradoxical experience of it being you and also being God happens simultaneously.
It is not that your Being is experienced as not your being but instead as Shiva's. Perhaps that would even be easier to accept!  Your Being remains your Being.  At the same time, that personality being ceases to be the dominate Being that You are.  The personality self continues just as it did before enlightenment, but it is insignificant (for lack of a better word) compared to your True Being, the Self, that you have awoken to.  And that Self is one with God… one with Shiva.  The life, thoughts, emotions, and moods of the personality self go on just as before.  Yet it is all different in the context of the transcendental Self that has emerged and, without a word, has overtaken everything.
Some think that the moment of enlightenment is a moment of total clarity after which you live happily ever after.  That is not so.  It takes time to sort out and to get accustomed to.  In fact, all of the higher states of consciousness are really just levels of getting more accustomed to, more familiar with, the enlightenment that has overtaken you…  the 'You' that has overtaken 'you'.
Life exists on many levels.  In the state of enlightenment, the level of life that longs for nothing is always there.  It is the transcendental level of Oneness with Shiva that you have become.  It is the level of freedom… freedom of the soul, freedom from wanting, freedom from desire, freedom from longing.  At the same time, there are the other levels of life where desire and longing remain.  Life goes on.  This is a matter of confusion for many people.  To become enlightened and have no desire on any level is simply a state of overwhelm with the new found enlightenment.  In time, it integrates with the other levels of life… the field of duality… relativity… the world of wanting.
Yes, after enlightenment, life goes on as it did.  Completely the same… just totally different.
© Michael Mamas. All rights reserved.