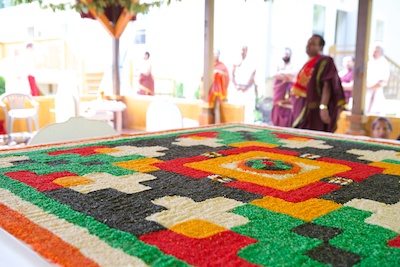 It is pandemic.  It is an aspect of the human condition.  People look for perfection in the relative.  This is such a beautiful thing. Everything is gravitating back to the one source, the Divine. However, as has been said, "Do not look for perfection in the relative.  It is not there."  The relative is, by definition, relative. It is not absolute.  The relative is the field of imperfection.  It was born out of Perfection, Pure Consciousness, the Absolute, but it is not the Absolute.   When Consciousness becomes conscious of itself and incorrectly views itself as other, duality (relativity) is born.
The Veda is the field of perfection.  Yet once it is viewed in relative terms, that view is imperfect… dualistic, relative.  It is essential to understand this. Otherwise, you cling to relativity as perfection.  Isn't this a beautiful and profound yet delicate topic?     The Absolute, by definition, transcends ALL 'things'…  even, dare I say it, scripture.  This is not to say that scripture is not precious, sacred, and in a relative sense certainly Divine.  But it points in the direction of the Absolute, like a reflection in a mirror or an echo.  It is not the Absolute.  Religions point in the direction of the Absolute.  But they are not the Absolute.
Truth is absolute.  Even the nearest we can come to the Absolute in the relative is not Absolute.  To think it is Absolute, prompts people to cling to it as the Absolute and thereby resist transcending relativity which is the ultimate 'goal' of religion, and in fact , of life.  This is the meaning of 'to be in the world, but not of it'.  This creates a tug of war between the Devas, who embody the Absolute, and the Asuras, who cling to its echo.  Echoes of Truth, perceived as Truth, hold Truth at bay.  This is why it is said that the Veda dwells not in books, but in the awareness of those who have awoken to the Absolute, i.e., the enlightened.
For a temple to be a Vedic temple, it must stand strong as a representative of the most profound truth.  It must hold true to such understanding.  Few understand that Truth.  But that understanding is what upholds and keeps the temple aligned with the deepest Truth of life.  The custodians of the temple unceasingly aspire to that which transcends even the most sublime aspects of relativity.  You are one with the Absolute.  All relativity is born out of that… out of who and what you truly are… beyond samskaras, beyond conditioning.  The supreme culmination of spirituality, of life, is to awaken to that.  Some may call this Vedanta, but to cling to a perspective on Vedanta Is to miss its deepest message, its deepest Truth.
© Michael Mamas. All rights reserved.