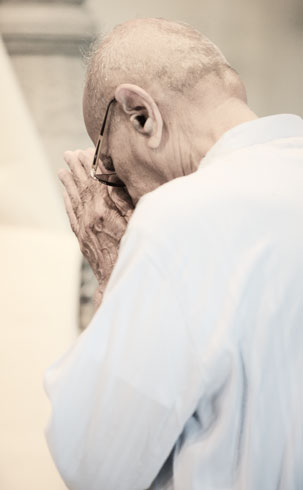 Someone asked if there was any scientific validation of the Vedic practice of Pradakshina. This brings up a very important principle:
The mechanics of existence is highly complex with an infinite number of moving parts or, said another way, it is a multi-variable equation. One such variable is time. There can be a very short, or very long time lag between cause and effect. The scientific method, on the other hand, works best when the number of moving parts (variables) is limited so the relationship of a couple things can be analyzed while everything else is rigidly fixed (held constant). The problem is that nature does not work that way. All parts are usually moving all the time. That is particularly true in abstract and complex relationships. As a result, the subtleties of life often elude the scientific method. For example, we know we have thoughts and we know what they are. But the scientific approach is not capable of reading one's thoughts. Yet we know a person has thoughts and can know what those thoughts are but only by communicating with the person.
The Vedic approach to gaining knowledge, at least at some point, eludes the scientific method. However, the scientific method can to a point validate the Vedic approach. Such a rational and scientific approach to Vedic knowledge opens doors to a world of knowledge. However, it takes dedication of time to study, patience, and over and above all else it requires a sincere and humble willingness to look beyond the limitations of ones identity with the way they have held their viewpoints throughout their life. Ultimately then, paradigm identity is a great obstacle to such learning.
Fortunately, we do not have to abandon our identity with the scientific rational approach to open ourselves to Vedic Knowledge. In fact, we can use it. By rationally beginning with and reflecting upon the basic principles, an understanding and appreciation of Vedic Knowledge develops.
Similarly, at first a child studying mathematics may feel it makes no sense, but with study they come to appreciate and understand it. They then come to learn that their math teacher knows more than they do about the subject. When the next area of the child's math study comes along, they are more willing and dedicated to working with it. They know the knowledge is there, but it requires time to understand. With the proper approach to Vedic Knowledge, things like Pradakshina are appreciated.
The study ultimately leads to the crux of the matter, a principle called 'cognition'. Vedic Knowledge was 'cognized'. Cognition is something ancient seers (Rishis) did long ago. By refining their awareness, they were able to see more deeply within the mechanics of creation, in other words, to cognize it. By studying the basics of Vedic Knowledge we come to appreciate the validity of those cognitions.
At some point (just as a math student appreciates the knowledge of the teacher) we come to appreciate the fact that those cognitions provide us with knowledge that we may not be able to verify with the scientific method. At the same time, so much of what we learned from our Vedic studies compels us to being open to what the Rishis have given us. This can rub the western mind the wrong way. Do we have to accept something on faith that cannot be proven to us??!! However, it is not really on faith. Like the math student, we come to realize that the teacher knows something we do not. However in the case of Vedic knowledge, attaining that level of understanding is far beyond simply taking a few courses at a university.
This does not mean we should abandon our rationality. A great deal of superstition and wrong understanding has permeated the world of spirituality around Vedic Knowledge. With so many moving parts and profound subtleties, the knowledge easily slips through our fingers. So we must remain discerning. At the same time, we gain a great deal by remaining open, knowing that great knowledge is there if we approach the field of Vedic Knowledge wisely. At that point, the knowledge and practice of things such as Pradakshina are not based upon blind faith. Rather they are based upon a deep appreciation for the source and validity of that knowledge.
© Michael Mamas. All rights reserved.