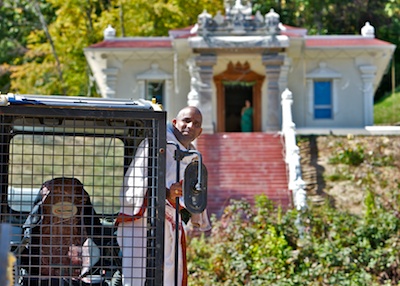 The past few weeks have been quite a spiritual whirlwind here at Mount Soma!  It started with Navaratri (9 days of Mother Divine).  It was an amazingly profound time for me and I do believe for everyone else here also.
The main thing I noticed is that course participants are becoming perceptive of the texture of the absolute.  That is quite a step forward from the days when people had a hard time understanding that there is something deeper than thoughts and emotions!  Temple ceremonies are doing a great deal to enliven the experience of the texture of the absolute, i.e. the texture of the transcendent.  It is a deep and sublime experience that I intend to further advance during the Deep Dive Course.  Things are really taking off!
With so many events happening at Mount Soma, the days of two retreats a year seem long ago.  Many events also means smaller groups which enables me to speak with more people individually, which I am very much enjoying.  I was up to the Center about every morning of the two-week stretch before meditation for a cup of tea with James, or Carol, or someone.  It was great fun and very heartwarming.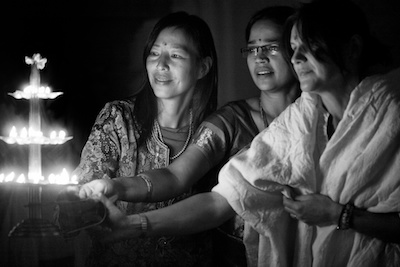 Navaratri was followed by a three-day Surya Ram Class.  It was tremendous.  In the future we will be dovetailing class with Temple events so people can stay for both if they so choose.
The Student Union will be done in a month or two, so housing will be available. Also, cottage construction will begin soon and the first wave of cottages should only take a few months to complete.  It appears that all 10 cottages near the center of town will be sold quickly.  If you are interested, act fast because there is much more interest than cottages available.
Pandit Prasad and Lakshmi have become a major part of Mount Soma.  They are my dear friends.  We expect to meet in India in December for a week or two to establish Brahmarishi University in Mumbai.  Harsha has been working hard there to bring this all about.  We will likely have a building there and will be hiring five or six pandits to perform yagyas daily and travel to Jyotirlingas and other major temples throughout India to perform pujas for the world.  This would be quite something.  In time we will offer courses there for everyone worldwide.  More on this later.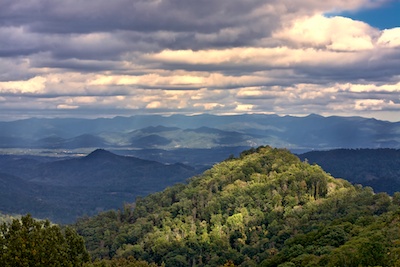 After the two weeks of courses I am taking a couple of days rest (though actually still working sunrise to sunset and into the night to catch up with administrative office and construction activities).  I guess if feels a bit like rest since I am not lecturing or visiting with course participants so am putting in a few less hours.
Bottom line: things are great and getting better and better.  I am privileged to have the opportunity to know and work with you.  I am grateful to the ancient Holy Tradition of Masters who have guided our way.
© Michael Mamas. All rights reserved.