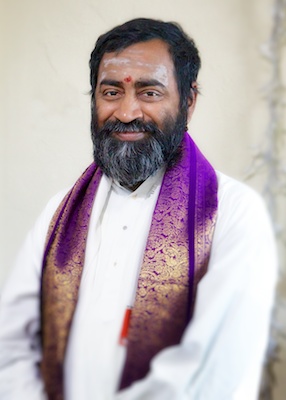 I was very impressed and moved by Sri Samavedam Shanmukha Sarma.  He is an incredibly kind, warm-hearted, and sincere man of great knowledge.  Barbara and Lakshmi wrote the following:
Sri Samavedam Shanmukha Sarma visited Mount Soma recently. He is very well known and respected.  For those of you who are not familiar with him, some information is HERE:
Upon sitting and talking with Maharshi and hearing of Maharshi's vision and message, he invited Maharshi to join him on a speaking tour in South India, which Maharshi immediately accepted.  He also wants to stay longer at Mount Soma and suggested bringing a group of his students to Mount Soma to stay for a retreat.  He said he would start mobilizing groups of people to start meeting and staying at Mount Soma.
He was very impressed with Maharshi's knowledge and ability to communicate it.  He and Maharshi obviously felt a strong connection.
He was also impressed with Sri Somesvara Temple.  He said the energy of the Shiva Linga is very powerful. It reminded him of the red granite at the Balaji Temple in Tirupathi.  He also remarked on the power of Sri Hanuman.
Sri Sarmaji commented on the wonderful combination of Maharshi and Pandit Prasad.  He appreciated the teamwork of Maharshi's ashram and students, and their dedication to their Guru and God, as well as Lakshmi (Panditji's wife) and how she supports Mount Soma.
Sri Sarmaji loved the mountains and enjoyed nature's beauty.  He said he would like to stay for some time at Mount Soma to do sadhana.
© Michael Mamas. All rights reserved.