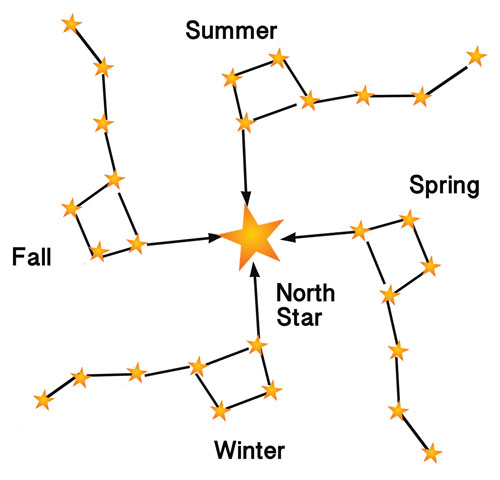 The swastika is an ancient sacred symbol.  For more information, click HERE  & HERE:
The seven stars of the Big Dipper map on to (correlate with) the seven SaptaRishis. These Rishis are the upholders of Natural Law. Natural Law means Dharma.
In the course of a day, they complete 360 degree rotation of the stars around the north star (every 24 hours it happens).
However, in winter it is dark out at the opposite stage of the rotation than in the summer. In other words, the stars seen in the middle of the night are up in the middle of the day six months later. This is because the Earth rotates around the Sun. So through the months at the same time of day, you are seeing the big dipper at a different stage of the 24 hour rotation. This of course occurs incrementally day after day as we progress through the year.
So through the four seasons, the SaptaRishis form a swastika in the sky.
© Michael Mamas. All rights reserved.