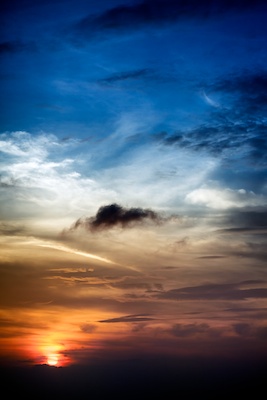 I am opposed to faith.  I do not just have faith that 2+2=4.  I know it.  Without knowledge, notions have no firm foundation.  We are fortunate to live in a time when, if we just take a step back and think for a minute, we can assimilate what humanity has learned in a manner that reveals the deepest mysteries of life and existence.  Our spiritual and rational sides can then come together as a unified whole.  The kite that is our soul is stabilized by the tail of our mind.  We attain real knowledge.
It is humbling that for so many generations, people have adhered to deep inner convictions without a clear rational understanding of their basis.  Humanity's shift to a rational orientation has put spirituality into question.  Spirituality made no sense.  As a result, many adults as well as the younger generation have rejected it.  At first glance, this seems most unfortunate.  However, it carries with it a great boon: the demand to make sense of spirituality.  Fortunately, we live in a time when science is able to do that… if once again, we just are willing to take a step back and think.  What follows is a brief overview of that knowledge.  Of course, any overview of such a profound topic will trigger many unanswered questions and confusions.  Unaddressed or misunderstood, those things could, if you are not careful, cause you to reject the overview.  So I only ask that your doubts and questions be expressed with the same level of humility and sincerity with which this overview is offered.
Einstein said that all existence is born of one and only one thing… The Unified Field.  Many modern physicists believe that field is nothing other than pure Consciousness, out of which all else is born.  Before existence, Consciousness could only be conscious of itself… there was nothing else.  When Consciousness became conscious of itself, it viewed itself as 'other'.  In that moment, duality was born.  Consciousness aware of those two things, birthed a third thing, and so on, to infinity.  In other words, Consciousness interacted with itself over and over again to create what modern science refers to as the quantum mechanical realm… the fabric out of which all things emerge.  It is geometrically precise and structured…like a crystal or snowflakes.  Many superimposed patterns can be seen in the structure of a snowflake.  The Vedic term for each of those structures within the quantum mechanical realm is 'Yantra'.
Now, who are you?  You are made of electrons, protons, molecules, cells, tissues, etc.  However, YOU are a personified being.  That is what you relate to.  That is the 'who' of who you are.  Similarly, those Yantras have a personified correlate.  That is 'who' they are.  At the same time, on the Unified Field level, they are all the same one thing.   Now, simply substitute the personified word "God" for the inanimate phrase "Unified Field" and you've got the essence… the overview.  In other words, each Yantra is another face of the one God.
This is just an overview, an introduction.  Where it leads is beyond imagination.  But you must be willing to take it step by step and not get frustrated or confrontational when things come up that you at first do not understand.  I invite you to move forward, past this very brief first step.  Rest assured, at no step along the way will I ask you to have faith.  It has to make sense.  I want you to understand.
© Michael Mamas. All rights reserved.