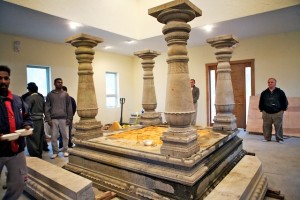 The arrival of the shilpis (granite workers from India) has brought a myriad of lively experiences to Mount Soma.
~
The aroma of Indian food wafting from their kitchen, the sound of their chants as they, like in ancient times, move huge pieces of granite by hand and lever, and hearing the tink tink of chiseling granite and the whirring of the stone cutter all permeate the cool Autumn air.
~
The shilpis warm and jovial hearts accent our days with play and happiness.  Excursions to Walmart and the mall are delightful adventures as they charm everyone from the cashiers to other customers with their sweetness.
~
In the last week, Mount Soma residents have been present for numerous auspicious ceremonies, including the temple groundbreaking puja, raising the columns, putting the top on the archway, etc.  Every day seems to contain another auspicious and exciting moment!
~
Evenings have been transformed with Ganesh's (the engineering professor who runs a non-profit to help build temples) presentations about temple development and S.K. (the head sthapati (architect) for the temple) talking about Vastu architecture principles, their origin in the Vedas and how they map onto the human body, map onto the human experience, and parallel the Mayan architecture.
~
With so much being accomplished, including the progress on the Student Union Building and the enthusiasm from visitors and our Indian guests, it feels like a long anticipated wave is carrying us forward.
~
This is all just a taste of what is to come at Mount Soma—an educational, cultural, economic and spiritual bridge, unifying all of mankind.
© Michael Mamas. All rights reserved.