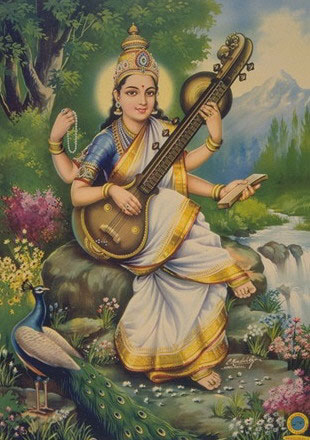 I've been asked to comment on the meaning behind on the story of Lila in the Yoga Vasistha. My favorite book on the Yoga Vasistha is called The Concise Yoga Vasistha by Swami Venkatesananda. You can access the ebook version of the Concise Yoga Vasistha here.
Now to the explanation: Imagine a deck of cards sitting upon a table, each card neatly stacked, one on top of another. Though there is a sequence to the order of the cards (top card, one below it, another below that, etc.), they are all superimposed on each other. This can be compared to the sequentiality of the Veda itself. Modern physicists tell us that within the unified field (the Transcendent, i.e., pure Consciousness), there is no time, nor is there space. Space and time are an attribute of relative existence. 'Before' the manifestation of existence, there was no space and no time. Within the Transcendent, sequentiality and simultaneity are one and the same. Also, the notion of separation inherent in space collapses down to the unification of all that is.
The universe manifesting can be compared to spreading a deck of cards out across the table, across the face of space and time. Now imagine that each card represents a lifetime with its own place in space (location in the universe) as well as its own place in the sequentiality of time.
In the story of Lila, Sarasvati freed Lila from the bondage of one lifetime, as well as the notion that lifetimes take place through the sequentiality of time. Within the Absolute (the Transcendent, the Veda), all lifetimes, and in fact all that is, exist simultaneously within Consciousness. Consciousness is the Transcendent. Everything exists within that one Consciousness. Consciousness equals 'Is-ness.'
Divine Intellect (Sarasvati) can be compared to the structure and order of a piano keyboard. Lila (Divine Play) dances upon that keyboard. This is why Sarasvati holds a Veena (musical instrument) in her hands. It is appropriate then that Sarasvati (Divine Intellect) taught this nature and structure of existence to Lila (Divine Play), thusly revealing Lila's own true nature to her.
Sarasvati, by giving Lila the experience of simultaneity of all events, frees Lila from bondage to the limitation of awareness. She thusly frees her and enlightens her.
© Michael Mamas. All rights reserved.