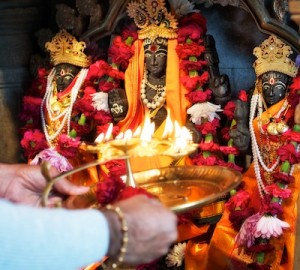 With my cultural upbringing, the idea of speaking with God seemed too far-fetched for me to accept.  That, compounded with the New Age channels and 'psychics', left me with a great deal of skepticism.
Yet when I was told by Holy men on several different occasions that I spoke the language of the Gods, I knew what they were talking about.  I was confronted by all of this directly when Pandit Prasad told me I should go to the temple every morning and speak with Shiva.  Though many astounding confirmations of what He said came forth, I was still uncomfortable talking about it.
This morning when I was doing my mantras at the temple, I could feel Lord Shiva calling me to sit.  By now, I know that feeling and knew He has something to say.  I sat and he proceeded to clarify the issue as follows.
Super ego is a term from psychology that refers to the inner voices of authority you hear inside your head.  It is your mother, father, teacher, role model, etc. speaking. It is the words of those you have taken on as an authority figure.  It is riddled with your and their samskaras… their limited thinking… their conditioning… their distortions. Now that is not to say that you should not listen to the wisdom and guidance they offer, but that is another topic.
The point here is that if you remove the samskaras as per Vasistha's discourses in the Yoga Vasistha, then what the super ego becomes is the word of God.  It is only our stresses and strains, i.e. our conditioned and limited thinking that prevents us from hearing God's words clearly.
The Gods do not speak in our worldly language.  They speak directly to your soul as sublime inner knowings within your soul.  When your inner knowings cease to be colored by the surface of your life, and instead become expressions of the Divinity within, you understand the language of the Gods, and they will speak to you. This is on Their terms, not the terms of your small self.
To hear the Gods speak, to know the language of the Gods, the small self must cease to be.  It must become only a virtual image projected upon the field of maya, there only in order to interface with the world of maya.
When your super ego becomes your Super Ego, you can speak to the Gods.
© Michael Mamas. All rights reserved.