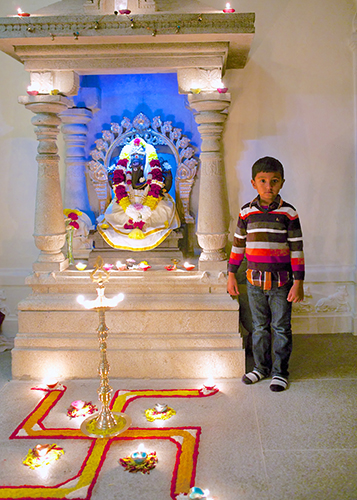 The central point of the Christian Holy Cross represents the Atman, the place deep inside a soul that is One with the Divine. The cross indicates that everything points to, leads to, the Atman… enlightenment.
The Swastika is the cross with the four arms 'bent' indicating that the path to enlightenment is elusive, not a straight line. The central point correlates with (maps on to) the North Star, the pole star…Dhruva in sanskrit. Everything, all the stars revolve around the Pole Star, Dhruva.
The seven stars of the big dipper are the Saptarishis, which by rotating around Dhruva, form a swastika. (more information) The Saptarishis as the guiding lights of dharma point the direction to the Atman, enlightenment.
In Vedic literature, Dhruv was the son of a king ignored by the king and denied his rightful place in life. Dhruv vowed to attain a place in life even higher than what he was denied, and went off and worshipped Lord Vishnu. Vishnu then gave Dhruv the status of the Pole Star. In other words, Dhruv awoke to his Divine nature, became enlightened, and realized that the entire universe revolves around the true Divine Self, the Atman.
Dhruv being ignored is like the Self, the Atman, being ignored in the state of ignor-ance before enlightenment.
© Michael Mamas. All rights reserved.